Baker & Wilson Win
National Crappie League
Tournament at Sardis, MS
The National Crappie League held an Open Division, two-day national qualifier on Sardis Lake, Mississippi, June 3-4.
The weather was hot, but so was the crappie bite. Temperatures were in the mid-90s with sun to partly cloudy skies.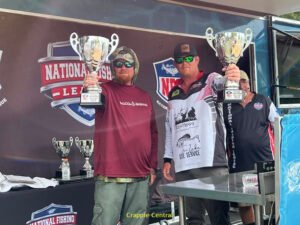 JoJo Baker and Phillip Wilson, from Mississippi and Tennessee, had a great tournament. They took the lead on day one with 10.77 pounds and kept the lead with another 10-plus pound stringer on day two. They caught a total of 20.85 pounds with two days of five-fish limits. A two-pound per-fish average is good on any body of water. They said they were lucky because they saw big fish but didn't know what they were. They caught one, and it was their biggest crappie of the day on day one. They caught their winning fish in shallow water, with the biggest fish coming from four feet deep. They also lost three giants. They used a big Just Another Crappie Bait jig and plastic in a brown and gold color. The team says they stuck with their game plan and resisted the urge to move off the pattern. That strategy proved the key to success that led them to first place, earning them $7400 and $2000 for the tournament Big Fish with a 2.54-pound slab.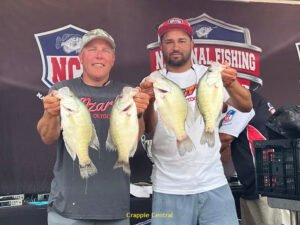 Second place was Lamar Bunting and Gene Neumeier, from Arkansas, with 20.50 pounds, just .35 pounds from the leaders. They fished various colored 1/16- and 1/32-ounce Bobby Garland Baby Shad jigs. The team had their fish by 10:30 a.m., so they became selective. They say the key to their finish was not to get tied down to one spot. It was important to keep moving. Second place earned them $3200, and they tied for second big fish with 2.53 pounds, earning $150.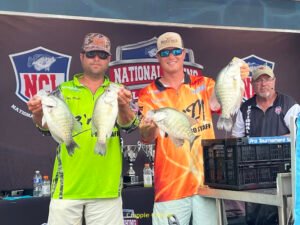 Third place was Jeremy Aldridge and Nick Hudson, from Mississippi, with 20.48 pounds to earn $2400. They used Crappie Magnet jigs and only used minnows when they had to. Like the second-place team, they caught their fish by 10:00 or 11:00 a.m., so they went after big fish the rest of the day. They saw some big crappie but couldn't get them to bite, so they didn't get a big kicker fish either day. But had two days with solid bags of fish.
Fourth place was Joey Ferguson and John Harrison with 20.34 pounds for $1400. Fifth place was Stephen Sullivan and Jamie Roberson with 20.06 pounds for $1100. Sixth place was Frank Haidusek and Eric Howard with 19.97 pounds for $850 plus a tie for second big fish for $150. Seventh place was Alex Hall and Cassidy Box with 19.89 pounds for $750. Eighth place was Chad Rogers, David McWilliams, and Trae McWilliams with 19.51 pounds for $650, plus the Top Adult/Youth Team for $300. Ninth Place was Tony Hughes with 18.83 pounds for $550. Tenth place was Chris Chambers with 18.81 pounds for $500. Steve Adams was the Top Senior for $300. Spencer and Holly Robertson were the Top Male/Female to earn $300.
 Thanks to our Local Sponsors
The City of Sardis and Panola County Tourism; Panola Partnership; The City of Batesville, MS; Crappie Brakes; Town of Sardis; Nana's Bait Shop; Chickasaw Hills Lodge & Cabins; Performance Marine; The Dam Store; Comfort Suites Batesville; Home 2 Suites, Batesville; Batesville Civic Center RV Park; Locke's Fish & Steak.
National Sponsors
Crappie Brakes; CarZone USA; Crappie Monster; Grenada Lake Resorts; H&H Rods and Reels; Fisherman's Haven; Power-Pole; Rockport Rattler; Outlaw Lithium Batteries; Pro Controll; O'Reilly Auto; Team Crappie; Everharts Outdoors; Ludwig Marine; Morris Marine; Charlie Brewer Slider; B'n'M Poles; Crappie Magnet; Jenko Fishing; Midsouth Super Jigs; SoreMouth Tackle; Quality Plumbing N Heating; Millennium Marine; Snacky Lures; CrappieNOW; Crappie.com; Prodezigns; Crappie Customs; Swamp Gear; Hook & Bullet; Slab Crazy Outdoors
Photos
Thanks to Crappie Central for day-two photos.
Upcoming Events
The next Open Event will be June 24-25 at Todedo Bend, Many, LA. The next Division 1 Event will be August 12, Truman Lake, Clinton, MO.